Innovative modular additive printing and inspection system will be on display.
Northfield Automation Systems, Inc. (NAS), announced today that it will unveil its new Profection Series, an innovative modular additive printing, inspection and characterization system, at IDTechEx's Printed Electronics USA2014 tradeshow held at the Santa Clara Convention Center. NAS will unveil the first machine in the Profection Series alongside strategic partner NovaCentrix at booth C06 on November 19 and 20.
"Printed Electronics USA2014 is the perfect place to show this capability that has been asked for but not displayed until now," says Mark Wegner, president and co-founder of Northfield Automation Systems. "We're excited for the opportunity to meet the leading manufacturers of printed electronics and demonstrate how we can help them reach the next frontier in manufacturing technology."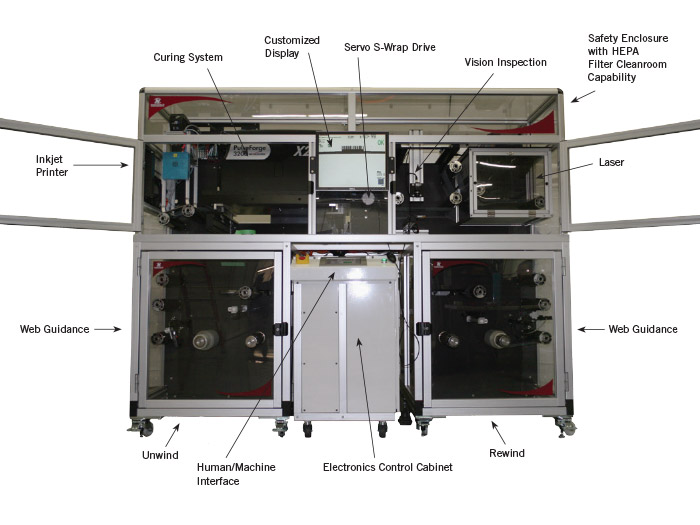 The show machine features an inkjet printing module provided by M-Solv Limited, an industry leader in developing innovative and advanced processes and technology for microelectronic and photovoltaic applications. The machine also includes NovaCentrix's Metalon®, PChem inks and PulseForge® photonic curing technology, and Northfield Automation's motion control, vision inspection, and laser characterization tools along with the process line integration. NovaCentrix's PulseForge® photonic curing module not only allows for a dramatic increase in the processing speed, but it also enables the creation of new materials not possible with thermal processing. Bosch Engineering provides the Human Machine Interface for the system, and servo drives allowing for precision motion control.
"This design allows for interchanging of modules for tomorrow's needs without having to start from scratch," explains Wegner. "Manufacturers can also maintain consistency with standardization while having inner modules that offer separate process step solutions to their product build."
The Profection Series will allow manufacturers of printed electronics to use additive processes and roll-to-roll technology to deliver the precision handling necessary for sensitive and flexible materials. The modular design of the system allows for different process technologies to be utilized with minimal changes to the tooling frame. These systems are well suited for lab and production environments where flexibility and variety of product codes are desired.  Available modules include:
Ink jet printing
Photonic curing
Laser processing
Electrical testing
Vision inspection
Lamination
Slitting
Rotary die cutting
Step and repeat die cutting
Screen printing
Product characterization
"We are excited to be able to provide this turnkey process solution, while including modularity for future customers' specific needs," says Wegner. "Our expertise in roll-to-roll automation, process manufacturing and materials knowledge makes us uniquely qualified as a production partner for any printed electronic manufacturer."
In addition to its modular design, the Profection Series offers value as a turnkey solution with a much smaller footprint than systems utilizing subtractive processes. The new in-line system is enclosed within a HEPA clean environment that allows for operator safety and cleanroom level processing without incurring added costs to prepare a facility level cleanroom.
These systems are a cost effective way for manufacturers to build prototypes for proof of concept at lab scale and pilot scale, as well as manufacturing scale. NAS will have a test lab available to manufacturers at their facility in Northfield, Minnesota. Before purchasing a customized system, manufacturers will have the opportunity to use the test lab for a trial run. Following the trial, NAS engineers will work with the manufacturer to design a customized turnkey system.
Wegner will give a brief presentation and overview of the Profection Series at the Tradeshow Theatre at 1:40 p.m. on November 20. For more information or to schedule an interview, contact Christine Tsang at tsang@neuger.com or visit Northfield Automation Systems booth F12 at Printed Electronics USA2014.
About Northfield Automation Systems
Northfield Automation Systems, Inc. (www.northfieldautomation.com) designs, engineers and fabricates automation machinery for Original Equipment Manufacturers and high-volume manufacturers. A leader in turnkey solutions, Northfield Automation Systems' machinery ensures product quality, maximizes efficient throughput, delivers meaningful data outputs and is user-friendly for operators. Northfield Automation Systems, a leader in sensitive material handling technology for flexible and rigid electronics, designs and builds automated in-line vision inspection systems that can be customized to work within any product manufacturing process.
About NovaCentrix
NovaCentrix, based in Austin, Texas, is a leader in printed electronics manufacturing technologies. The state-of-the-art PulseForge® photonic curing tools dry, sinter, and anneal functional inks in milliseconds on low-temperature, flexible substrates such as paper and plastic.  The tools process a wide array of metal-based conductive inks, as well as non-metallic and semiconductor inks, and are available with the integrated material and tool simulation package SimPulse™. NovaCentrix also offers high-performance, economical Metalon® conductive inks, including the innovative and award-winning ICI copper-oxide reduction inks which work optimally with PulseForge tools.  NovaCentrix also offers printing services with our in-house inkjet, screen and flexographic presses. To learn more, please visit www.novacentrix.com.
About M-Solv Limited
M-Solv Limited is an innovative leader in developing new and advanced laser and inkjet deposition processes in microelectronic and photovoltaic sectors. These technologies combined place M-Solv at the forefront of pioneering process techniques in various technology sectors, including large area flexible electronics, photovoltaic and advanced packaging.
M-Solv is based in Oxford, UK, with an office in Hong Kong, a manufacturing partner in Taiwan and partnerships worldwide. As an equipment manufacturer and integrator, M-Solv provide complete engineered solutions for large scale production, pilot trials and R&D applications. Further information about M-Solv's tools and technology can be found at www.m-solv.com.